Returnee Program
A Comfortable and Conductive School for Returnees and International Students
We have actively accepted returnees and international students.  Our school is located in Yokohama which is one of largest global city in Japan.  We provide a conducive environment and offer great chances of learning the Japanese culture for returnees and international students. Also, we give good opportunities for learners to enhance their intercultural communication during their stay. Even if learners are non-Japanese speakers, they are highly welcome to study here. Do not hesitate to ask and visit our school, we look forward to your visit!
Entrance examination

From Abroad (via Skype)

27th September, 2020 (Sun)
22nd November, 2020(Sun)

In Japan 

22nd November, 2020(Sun)
26th December, 2020(Sat)

Qualifications for admission

Students who are to expected to complete junior high school level education either in Japan or in other countries (please contact our school for details)
Examination
Entrance examination for students who stay abroad

Honors screening: screening of the document + SKYPE Interview with parent

General screening: screening of the document + SKYPE Interview with parent

Entrance examination for students who stay in Japan

Honors screening: English essay + Interview with parent

General screening: Japanese essay + Interview with parent
Global Program
 Returnees can study comfortably

Identity as a Japanese and identity as a global person

Returnees can speak English without hesitations and they can continue studying in their own learning style. We have solved and supported their concerns and differences.

As a Japanese, we will keep growing our good culture and fine attitude.

And as a global person, we can assure that our graduates are capable of becoming competent workforce equipped with wide intercultural knowledge.

Aside from that our educational system is well-tailored to meet different demands of varied cultures. So learners can study and grow with determination.

English Class : 7 hours a week for Grade 1 and 2, 11 hours a week for grade 3

 Working with SDG and have a chance to present in the US (during the school trip)

We try to keep their English skill though Honors class which is an all-speaking English class for returnees. That environment can help them be accustomed to speaking the English language.

Learners can have a wide perspective in choosing their ideal future.

SDG is advocated by the United Nations, for maintaining the world, we will address international community problems.

As a global person, students can have a presentation in English at the Stanford University with the second year high school students.
Returnee Program
– Giving classes with Global standards
We provide 7 hours of English class in a week including 4 hours of language arts so that learners can keep up with their English skill.
– Philosophy
Of the 7 hours a week of English class, 2 hours of which is philosophy class so that learners can develop their critical thinking ability and creative ability. Improving their English skill at the same time.
– After class follow up
We will address learners' concerns and questions as soon as possible. We are ready to support them in achieving their goals and, also their tutors.
– Academic and Career Counseling
We start counseling students in advance to prepare them for the bigger challenges in their life, the university.
Our objectives are clear so we assure to our students that their goals in their studies are definitely achievable.
【Target Universities】
Tokyo University Kyoto University Hitotsubashi University Keio University Waseda University Sophia University Tokyo University of Science Meiji University Aoyama Gakuin University Rikkyo University Chuo University Hosei University Overseas University…etc
iGlobal Division Information Session
From April 2019, the Yokohama EIRI Girls High School iGlobal Division will begin.
This is a girls school is designed for women are active in seeking out challenges in the world.
Please come and join us at the new school's information session – dates will be informed in this website soon.
Info Session Outline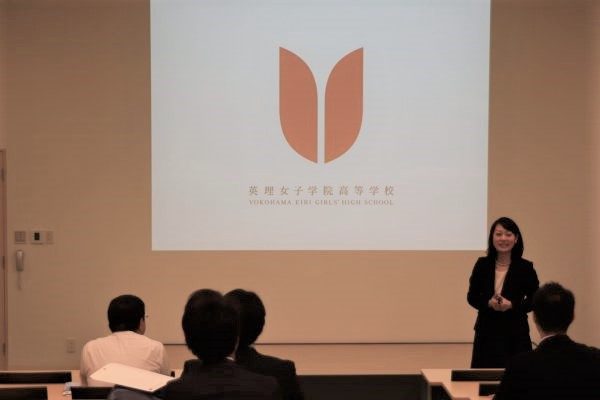 <Session Contents>
General Session(About 1 Hour)
・A Brief Talk from a Guest Speaker
 ~ The Reflections of a Globally Active Career Woman ~
・Introducing iGlobal
・Educational Contents of iGlobal
・Entrance Exam Information
Open Discussion Time
・Tour of the IoT Building
・Individual Consultations
In order to participate in the information session, it is recommended to make a Web reservation in advance. It is possible to participate in the session without reservation on the day.
Application Guidelines and Documents
Admission Guidelines for FY 2020
(If you have visited the site before October 15, please check again.)
Acceptance of Overseas Returnees
Admissions Documents
Foreign students residing abroad will be required to submit the entrance examination documents separately.
Please fill in the designated school forms and submit them.
Click the link below to download the forms.
Application Guidelines for Returning Students
School Information
Click the School Information below for a PDF of the iGlobal Division . If you would like to request additional materials, please contact us through the Web or call (045-431-8188) from the document request button.
Request for Materials
※ If you need materials sent overseas, you will need to pay the postal fee.
copyright © YOKOHAMA EIRI GIRLS' HIGH SCHOOL All Rights Reserved.